The Weight is Over for Effective Weight Loss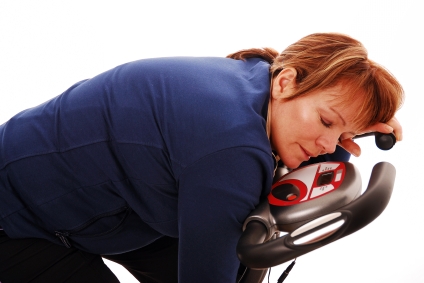 Are you someone who has tried everything to lose weight? Diets, exercise, positive thinking—if you find yourself sitting up late at night trying to find some better way to drop that gut and fit into that summer swimsuit then take notice: it could be those late nights themselves that are the real issue with your lack of weight loss.
Getting sleep is important. We all know it, but sometimes we must be reminded. New research is showing that sleep is more of a factor when it comes to losing weight than was once thought. In fact, did you know that gaining an extra hour of sleep per year can contribute to 14 pounds of weight loss?
So is sleep the new Atkins diet? Let's find out the nature of this approach.
A proper night's rest is important because it resets the levels of cortisol in the body. Cortisol can be likened to the "opposite of testosterone," as when it's present, it signals for the production of testosterone to decrease. When we're stressed, cortisol goes up and testosterone goes down. When we're always stressed, and not getting enough sleep, testosterone is never present in the body in significant amounts, and this contributes to weight gain, especially around the mid-section, and especially for women (as their levels of testosterone are naturally lower to begin with).
At this point the operative question is, "Ok, so how do I get more sleep?"
Besides the usual sleep aids like melatonin and 5-htp (the natural precursor to serotonin, which contributes to sleep cycles) a few lesser known, but great sleep aids are magnesium and calcium. Unlike the previously mentioned aids, these are naturally occurring elements which one can gain simply from eating the right foods. If you want a more direct approach, however, start off with 600mg of magnesium and 400mg of calcium supplements daily. Within a short period of time you should be flying around your inner dreamscapes, content with the subconscious knowledge that even within, you're burning that fat off on your outer physical body.
In addition to ingestible sleep aids there is always the sleep aid fallback of the ages: tea. Since second century AD, tea has been used to calm anxiety and alleviate stress. Try making a combo tea with valerian root and passionflower, both of which are available at most health food stores.
A somewhat overlooked condition when it comes to sleep loss is known as "silent reflux," a condition that is akin to acid reflux, but in the sense that occurs unknowingly in the stages of sleep which causes a person to wake up in the middle of the night. If you believe you may suffer from this, try taking an antacid 30 minutes before bedtime. If you see no improvement in sleep then stop taking the antacid.
Finally, something that once maybe would have gone without saying, but in the fast-paced, wake-or-break your career mentality world, establishing a proper bedtime is actually of significant importance. Ideally the human body should get around 5 full sleep cycles—to attain period of REM sleep, the kind that you need—and to do that around 7.5 hours of sleep are required. So simply take the time that you usually wake up, and then scroll back 7.5 hours and set your bedtime. Remember, this is not a curfew, and you do not need to adhere to the bedtime every day. The underlying point here is that the more sleep you get, the better your chances for weight loss are going to be.
So what are you 'weighting' for? Close those eyes!