Risks of Diet Soda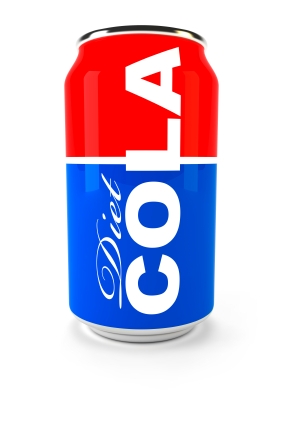 When we think of the word diet, the first thing that comes to mind is weight loss. So when we're at our favorite fast food restaurant trying to quench our thirst, a can of diet soda seems like the best choice to make that greasy burger seem less harmful. When you are looking to stay hydrated from the summer heat, lose weight, or trying to lower blood pressure, that diet soda may not be what you should be drinking.
Aspartame is an artificial sweetener in diet sodas to give it that sweet taste we crave. Non-calorie sweeteners actually make our bodies crave more calories and prompt our bodies to store more calories for fat. In a recent study, people who drank diet soda had a 70% larger waist line versus someone who does not drink diet soda. The shocking truth is that people who drink two or more sodas a day had waistlines 500% larger than people who didn't drink soda. Furthermore, people who drink soda everyday had increase their risk of stroke and heart attack by as much as 61% and raise the risk of obesity by 41% illustrating how it does not help to lose weight. Another dangerous ingredient of diet soda is fructose. Diet sodas contain a lot of fructose and a study showed that participants who drank fructose had increased levels of LDL (bad) cholesterol and triglyceride levels.
It may not just be the soda that causes the increased health risks. When someone grabs that soda, they may be grabbing a large fries to go with it. This diet is what adds the weight instead of helping lose it. Studies show that there is an increased risk of high blood pressure, high cholesterol, obesity, and risk of heart disease such as stroke and heart attack when soda is consumed. There are not enough studies to prove that soda is the worst problem out there and should be cut out of a diet but it does help! Since there are high levels of caffeine in diet pop, it makes it addictive so it could be hard to quit. The caffeine also may give someone high levels of energy but could also lead to increased fatigue, enhance anxiety levels, and worsen levels of hormones. Also, soda increases the chances of dehydration causing excessive thirst, poor concentration, headaches, and leg cramps. Moreover, there are high levels of acid in diet soda which causes tooth erosion and excretion of calcium leading to bone loss. This bone loss can lead to osteoporosis in the future.
When you're looking for that drink to keep you cool in the summer, try to turn to water instead of pop to keep you hydrated. Although it is not fully proven that soda is a huge risk for us, it is best to just have it occasionally to avoid the increased risk of health problems.