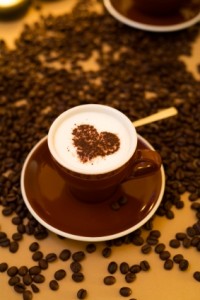 If you are anything like me you have to have that cup of coffee in the morning. Until I bought a coffee machine with one of those nifty built in timers, that pre-programs the machine to start at a specific time, mornings were not exactly my favorite time of the day. I would have to force my self from under the blanket and crawl on my hands and knees, just barely reaching the coffee machine in time. However, my fellow coffee lovers there may be more good news to these morning cravings.
In a study based in Finland, researches were able to determine that drinking coffee can lower the risk of getting dementia. Dementia is a problem in the brain that causes a person to have a more difficult time remembering, learning and communicating. Additionally, it can change a person's mood and personality. At first, memory loss and trouble thinking clearly may bother the person who has dementia. Later, disruptive behavior and other problems may begin. Furthermore, a person who has dementia may not be aware of these problems.
There were a total of 1049 people that participated in this study during an average of a 21 year period. The volunteers were organized into three different groups based on daily coffee consumption, low (0-2 cups), moderate (3-5 cups), and high (over 5 cups). Those that drank between 3 and 5 cups of coffee daily were found to have a 65 percent less likely to develop dementia when compared to those that drank only 2 cups or less. Those in the over 5 cup category also had lower chances to develop dementia however, researches say that there were not enough in the "high" category to confirm the results.
The wonderful effects of coffee don't stop here either. Coffee, which I seem to remember stealing from my mother when I was about 4 years of age, appears to prevent or lower the risk of many other health problems. These consist of diabetes, Parkinson's disease, and colon cancer. Additionally, coffee can lighten your mood, relieve headache's, and even fight cavities. Now all this writing on my drink of choice has made me thirsty, off to the kitchen I go.
CanDrugstore.com, a Canadian Internet-based pharmacy intermediary (license #BC X23), offers low cost, long-term prescription drugs. A professionally registered pharmacist fills all Canadian prescriptions. A certified member of the Canadian International Pharmacy Association, CanDrugstore.com is ranked as one of the best Canadian pharmacies .
For more information on how to order your drugs from Canada safely and securely call 1-866-444-6376 or visit http://www.candrugstore.com/- a trusted and reliable Canadian online pharmacy since 2002.Read more: "CanDrugStore" – http://www.candrugstore.com/blog/#ixzz0EaSkHrOA&ARead; more: "CanDrugStore" – http://www.candrugstore.com/blog/index.html#ixzz0FRCWAfOA&A;
Read more: "CanDrugStore" – http://www.candrugstore.com/blog/#ixzz0FX2eGlOA