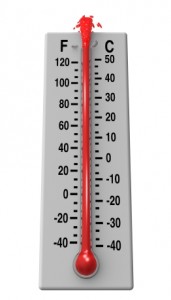 The unexpected
heat waves
of summer are actually more of a pain than we thought. A recent study has found that there is a definite link between unexpected rises of temperature and
headaches
. Even the "warm" days of winter can trigger
migraines
.
Researchers at Harvard University published their on March 10th this year in the Issue of Neurology. Kenneth J. Mukamal M.D, led the study and concluded that temperature is a strong trigger of headaches however the key is the difference in temperature compared to an average day therefore sudden temperature highs are the leading cause.
It was Boston's Beth Israel Deaconess hospital records between 2000 and 2007 revealed this relationship between heat and migraines. The records of 7,000 visitors to the ER showed that if the temperature rose at least 9 degrees more than anticipated, the number of visitors with migraines in the ER rose 7.5%.
So before you face a heat wave, keep in mind that the pool party weather could be the trigger of a severe headache or migraine. Remember to drink lots of water to keep yourself hydrated throughout the summer months!
CanDrugstore.com, a Canadian Internet-based pharmacy intermediary (license #BC X23), offers low cost, long-term prescription drugs. A professionally registered pharmacist fills all Canadian prescriptions. A certified member of the Canadian International Pharmacy Association, CanDrugstore.com is ranked as one of the best Canadian pharmacies online by . For more information on how to order your drugs from Canada safely and securely call 1-866-444-6376 or visit http://www.candrugstore.com/– a trusted and reliable Canadian online pharmacy since 2002.Read more: "CanDrugStore" – http://www.candrugstore.com/blog/#ixzz0EaSkHrOA&A;
http://www.candrugstore.com/blog/index.html#ixzz0JC2T5FOA&D;